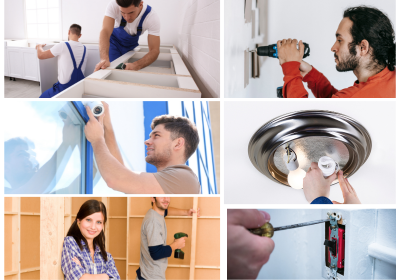 Renovate your space to better engage customers, or call us in for routine maintenance. We can help to give your space a facelift and knock out the to-do items that have been stacking up on your list. From replacing hard to reach lightbulbs to installing crown molding, repairing walls and more, we've got you covered.
The challenges that come with running a retail space are nearly endless. By definition, you are inviting strangers into your premises day after day. That's great when trying to make sales, but you can't always count on those visitors to treat your space properly.
The need for repairs is common in retail spaces, which is why RepairCart is standing by, ready and willing to help. When you need retail repair services & maintenance, you don't want to let too much time pass before having the job completed. Contact RepairCart right away!


Replacing Lights

One of the most common jobs at a retail location is replacing a burned-out light bulb—or several bulbs. While replacing a bulb is a simple job that most people can handle, the problem here is the location of the bulbs in many cases.
Retail locations often have high ceilings or designs that otherwise make bulbs hard to access without the right equipment. To make sure your sales floor is properly lit throughout the business day, call Checklist to have this simple but important service completed.
Wall Repairs

Customers in your store may not always treat the place as nicely as you would like. That may mean damage to your walls from time to time. You will want to have that damage repaired promptly to restore the image of your location.
For instance, maybe a customer got distracted while pushing a shopping cart and ran into a wall, putting a small hole in the drywall. This is a simple fix for an experienced professional, so all you need to do is make the call.
Installing New Furniture & Displays
Home Repair Services
When you decide to update your retail space and implement a new design, you may bring in some furniture as part of the remodel. Perhaps it's just a few chairs for customers to use, or maybe it's something larger that integrates with your shopping experience.
To have the furniture and display pieces you have selected installed and assembled correctly, call RepairCart for help. With the right professional working on the project, you can make quick work of rebuilding your retail space and get back to selling your products and services to as many customers as possible.