professional painting in dubai
Improve The Appeal Of Your Property Through Painting Services In Dubai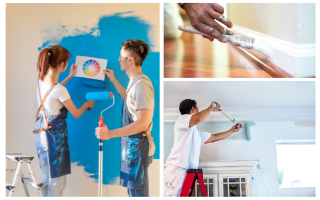 Painting the interior and exterior section of the home is an easy, economical option to improve the aesthetic appeal of the home. Moreover, it also enhances the overall value of the home. With the help of RepairCart, you can add style, personality, and warmth to any room.
Professional painting contractors have much in-depth knowledge about colors, paints, painting applications and other miscellaneous information that proves useful in the project. If you are looking for affordable professional painting services in Dubai, RepairCart can meet your needs.
Our Promise To You: Affordable Painting service For Every Household At The Best Price
Painting Services In Dubai
We will never compromise on quality and at the same time our fees are completely reasonable. Every house needs a fresh coat of paint after a few years. The layer of dust settles on the walls, and the appeal of the home is lost. Do not delay giving your home a fresh look. Our painting services in Dubai are completely affordable. RepairCart has a competent team that fulfills the expectations of the customers by delivering impressive results.