Air conditioners provide homes and offices with cooling comfort. When well-maintained, the appliance also cleans the air inside your home. Our office AC servicing in Dubai understands the cooling requirement of the customers. We have the best specialists for the job who can make you relax so that you can fight the scorching heat.
Maintenance is vital in extending the life of equipment. Just as with any other equipment, regular preventative maintenance is necessary for a number of reasons. You can avoid the possibility of sudden breakdown at the time when you need it most. RepairCart provides homes with first-rate "air conditioner repairs in Dubai and services in Dubai". Maximize the capacity of your unit with regular maintenance. This way, you get the most out of your air conditioner and save money. You must pay proper attention towards AC repair and maintenance in Dubai.
Part of our intensive service is to remove the build-up of any toxic mold, fungi or bacteria. So not to disperse into the atmosphere as well as looking for any potential faults by checking refrigerant levels, temperatures and the efficiency of the equipment. Our preventative maintenance services are available on all equipment and commercial programs are also available. For AC repairing in Dubai, you can rely on the technical expertise of our professional team.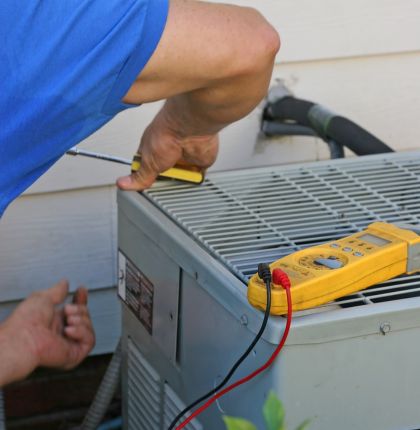 Air conditioner units always face the risk of breakdowns. We understand that it can be frustrating if your air-conditioning or refrigeration system breaks down, but you can rely on us to get it back up and running fast, with a minimum of fuss. As the best AC services in Dubai, we ensure the complete satisfaction of our customers.
Subject to your approval, most AC repairs in Dubai are carried out immediately, and the air conditioner or refrigeration is back up and running better than ever.
Service visits are scheduled at a time suitable to you.
We will arrive when promised, we won't keep you waiting
Clear and straightforward service rates, no hidden fees
Competent repairs by trained technicians
Work site left clean and tidy